'Edukey for kids' is a non-profit making, Christian-based organization without political affiliations. It was founded by Peter F. Muganda to provide education and basic needs to less privileged children, street kids and other vulnerable groups.
'As a founder, I have always moved around with this vision to boil means to help more poor kids more especially in the developing countries like Uganda where I was born and raised in quite harsh and poor living standards.
Much as there are many other organizations providing and taking care of some of the groups mentioned above, we realize the need is still there for the small organization like ours close to and within communities to make a tremendous difference. To fulfill this big dream, different approaches have to be put in place, so that so many of the kids do not remain unproductive, or dependent of the organizations that help them to a certain age. We tend to apply a different approach.
The children we do help will go to school, learn skills and been given more room so that their ideas and dreams are being honored and considered. By doing so, we believe, we will be creating a innovative generation that can come up with ideas that will help them and others out of poverty.
We believe if no change is done, the chronic poverty the children the kids live in, will never be terminated. We have seen many of these grown up kids, they still need to be helped even at their older age. We know it will not be that easy, but let's play our part and help the less privileged and teach them how they can fish for themselves instead of giving them a fish. These challenges we have come to realize, will not be solved if we send our kids to regular schools around.
It has come to our attention that many schools in Uganda are no longer providing good education as they should. Officially, universal primary schooling was put in place. On paper all kids do not have to pay money to be able to attend primary schools. But this move made things more problematic for the most poor. In Uganda all kids going to school, have to put on uniforms, and they have to bring with them a lot of materials at school in order to be able to attend (the overcrowded) classes. These materials include; soap bars, dozens of books and sometimes bags of cement. As you can imagine, many kids from poor families cannot afford those things, and more about these children live far from where schools are located. They travel miles and miles to attend classes. As you can imagine by the time kids arrive at school they are already exhausted. Due to these harsh conditions kids face, we call upon everyone to do what it takes to make sure that some of these kids can have school uniforms, shoes and some simple meals during lunch time to be able to concentrate on their schooling. We should not forget, sitting in a classroom with empty stomachs, makes it very difficult for everyone to concentrate and keep in his or her head what is being taught in the class.
Another problem that came up due to the introduction of universal primary schooling include; insufficient school classrooms, many teachers were under educated. The schools were overwhelmed with a great influx of pupils that wanted to be educated. Very little Measures were put in place before universal primary and secondary schools were introduced. Frankly speaking, in the course of the years, some changes have been made but many schools still demand many commodities from poor kids. The problem of overcrowded classes is still at large, for example, you can still find pupils as many as 90 in numbers, sitting under a tree or if school building is available, in a half build classroom so small that same 20 pupils hardly can fit .
Edukey for kids realize it is a priority that something is done as an example to some of these schools. The approach to some of these problems, the charity  want to raise funds to help kids  go to school. We want to make sure that we work with some of these schools so that teachers are in one way or another retrained or by letting them gain access to the modern information available on the internet. We think, this is a very cheap method for some of the teachers to gain more modern and innovative ways of teaching and encouraging kids in schools to aim higher and think big.
Child Labor
As a result of lack of parental up bringing care and guidance many children who have not disappeared to the streets have always become victims of child labor to survive.
These children are employed in people's homes as house keepers in factories, farms etc.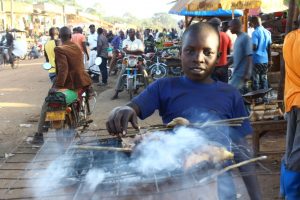 Where they are mistreated by their employers, sexually harassed especially in the case of girls and most times they are played peanuts and at times no payments at all besides being subjected to heavy work which is far beyond their age, insults, heavy punishment, locking them in houses are all kinds of mistreatment that these children who decide to choose a good path unfortunately have to go through in their lives while other children are always seen in markets carrying heavy loads of merchandise, Hawking on the  streets, fetching water transporting people and goods on bicycles etc.
There are many reasons to educate children to avoid all these obstacles in life for the children. Therefore we want to play a role to make this possible.