We can offer you the following volunteering positions in Uganda.
Helping in clinics/ hospitals.
Volunteers interested in working / helping in clinics/ hospitals are urged to have a medical diploma or have  a reasonable medical studies and experience in this field of medicines. As most hospitals demand a written proof of your studies. If you are interested to volunteer in a clinic or spend your internship we kindly request you to sent your inquiry in time. Our coordinator will get in touch with the clinics to find you a position.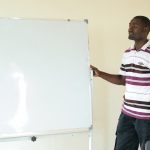 Teach, organize games in primary / secondary schools to stimulate kids.
You can give inspiring lessons in primary / secondary schools. Lessons can only be given in English and the subjects include: Geography, Gymnastics, Creative subjects (Art, music) and computer.  For the games, but most importantly giving lessons, it is important that you prepare yourself at home before you go in classes. For example it's advisable that you do the necessary research and collect the materials needed by yourself to take with you. The schools often do not have the materials. It is also easy to create your own material from the internet and print it out to guide you while teaching.
Building homes/schools. 
Regarding building and organizing  activities. If we have a project available at the time of your requested volunteering schedule then we can offer you to help building a school or home. In Uganda we can built homes or schools in simple ways with of course guidance of professionals. However we do not have such projects at all times. If we do we publish this on our website for you to register to come and assist.
Volunteering in orphanages 
You will be helping in the normal routines of the children in orphanages. We would ask you to spend more time with the kids, help them with their homework, play games with them, read books and sing songs that make them feel uplifted. You can take them out for a certain time to the play grounds or swimming.  Furthermore we need you to help the house mama's to do the house cleaning, shopping, preparing meals and help the little ones to bed.
If you want to volunteer with us we will host you in a very nice lodge where you will share a spacy room with other volunteers. Men are sharing with men women with women. However we offer couples a room on their own. The meals are simple cause we are not in the position to offer you touristic meals for the low cost we charge our volunteers. Anything extra you would like to have for breakfast or dinner you have to get at your own cost. Coffee and tea are available and included.
As you will understand we have conditions and rules to accept and respect to avoid any misunderstanding or problems. Although we are a Christian organisation we do take volunteers of all kind of religions or non religion as long as you respect the norms and values of Christianity.
* We expect from you to come to Uganda with good intentions to help in one of our projects.*
* You respect the customs and values of the host country*
* You agree that you will get simple meals*
* You will stay in a nice lodge where you may share a room with other volunteers. (Women and men separately or couples together)*
* You work five days a week and have two days off per week.*
* You accept the Christian values and respects this.
* You may not consume any alcohol during your work and if used when you are of you know how to limit!
The cost for a month volunteering with staying in a lodge is 500 euros. This includes three basic meals, coffee and tea.
Interested? Please sent us an email to:info@edukeyforkids.com